Academic Achievement Award

Houston Aggie Moms awards 
The George P.F. Jouine Award
In recognition of Lieutenant Jouine's service and his achievements as a successful post-war engineer, since 1958, the year following his death, the Corps of Cadets has annually recognized the most outstanding scholastic unit with the George P.F. Jouine Award.
Each member of first place unit receives a cord compliments of Houston Aggie Moms' that they proudly wear with their uniform.
2021-2022 Awardees
1st Place Company I-1
2nd Place Company D-1
3rd Place A Company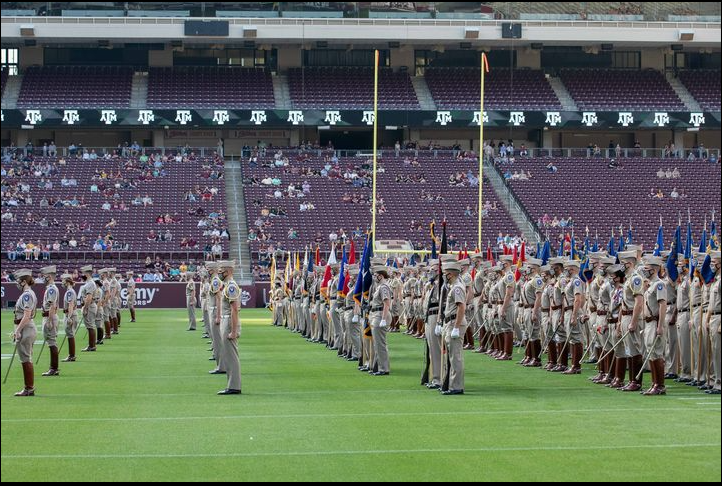 Congratulations to the Major Flag Award winners! These awards recognize the outstanding achievements of our cadets & our outfits who distinguished themselves throughout the year. Well done cadets!
_________________________________________________________
In 1976, through the sale of an Aggie Mom's Cookbook, our club set precedent by presenting Texas A&M with a $25,000 President's Endowed Scholarship. Since then, we have presented hundreds of scholarships to deserving students.
In 1958, the Houston A&M University Mothers' Club voted to present an award to the Corps Unit with the highest scholastic rating.
Houston A&M University Mothers' Club Jouine Award
_________________________________________________________
Awarding of Houston Aggie Moms Scholarships
Our club's recipients are chosen by the Texas A&M Office of Scholarship & Financial Aid (SFA).  Recipients of our scholarship are deserving Houston area students with their permanent residence within zones areas of Houston ISD, Spring Branch, ISD, and Alief ISD. In order to qualify for consideration, a student must have applied through the Scholarship Office by their February 1st deadline.
To review Texas A&M University scholarship requirements, deadlines, and application processes, go to the TAMU Scholarship & Financial Aid Website.
_________________________________________________________
PRESIDENT'S ENDOWED SCHOLARSHIP – This four-year scholarship is a $3,000 award presented annually to an outstanding high school senior who is nominated by his or her school Principal or Counselor and maintains the required GPA. 
ENDOWED OPPORTUNITY AWARD SCHOLARSHIP – Is a $1,250 a year award given to two outstanding students based on required GPA.
ENDOWED SUL ROSS SCHOLARSHIP – Three $1,200 scholarships awarded to members of the Corps of Cadets.  Address inquiries to Commandant's Office.
ENDOWED MATHEMATICS TEACHING ASSISTANT AWARD – This fund provides stipends for teaching assistants in the Mathematics Department.  Address inquiries to the Head of the Mathematics Department.
ACADEMIC EXCELLENCE ENDOWED SCHOLARSHIP FUND – One-year scholarships of $1,000 awarded on academic merit 2.5 GPR and financial need. 
75th ANNIVERSARY ENDOWED SCHOLARSHIP  
SPIRIT of BONFIRE '99 SCHOLARSHIP 
ROBERT L. BOONE ENDOWED SCHOLARSHIP
GLOBAL STUDY SCHOLARSHIP (Study Abroad)
HOUSTON A&M UNIVERSITY MOTHERS' CLUB SCHOLARSHIP
GALVESTON CAMPUS SCHOLARSHIP

_________________________________________________________
The dollar amount and number of pass through scholarships awarded are determined by the board each year.
Additional contributions are awarded to sanctioned organizations on campus in the name of The Houston Texas A&M University Mothers' Club